Bonnie T, Making Art and Doing Her Part
December 16, 2020

Bonnie T is a young first-generation Chinese American San Franciscan dedicated to helping her city stay healthy during the COVID19 pandemic. We met her back in August when, as a member of the City's Opportunities for All internship cohorts, she produced artwork for their COVID-19 safety youth engagement program. The Joint Information Center team at the COVID Command Center immediately recognized Bonnie's talent and reached out for her help in the City's health and safety messaging campaigns.
We were surprised to learn that she did not see herself as an artist. Nonetheless, she immediately agreed to give it a try and help out the City. She created an array of youth-themed art to promote safe COVID-19 behavior, good mental health, flu vaccination, and safe school reopening. She took on this impromptu internship with such dedication and positive spirit that she quickly became the face of our youth engagement outreach campaign. She achieved all of this while hard at work on her first-year college coursework.
Bonnie graduated Lowell High School and was looking forward to her freshman year as a psychology major at the University of California, Irvine. The pandemic prevented her from moving to the beautiful Irvine campus and experiencing the in-person intellectual, social, and cultural experiences traditionally part of the on-campus college experience. Instead, she is studying in isolation from her room at home in the heart of the Tenderloin. Despite these challenges she finds joy and purpose in being with her family and helping her hometown during the pandemic.
"I want to help people see the impact of their actions", Bonnie stated. "We are all a part of our community and we have to realize and know our place in the world." She noted her artwork reflects simple things she loves or remembers from her childhood. Her endearing and joyful style combined with soft colors has been ideal for use in our youth outreach on social media, print, and mask production. She consistently generates heartwarming art designed for youth, but so expressive that it engages all ages. Through her art she touches hearts and helps protect our community.
Although her coursework is her top priority, Bonnie plans to continue working with the City throughout the pandemic. We look forward to this ongoing collaboration with Bonnie and her ability to produce resonant artwork in response to quickly shifting messaging priorities. We also look forward to seeing where her hard work and talent takes her in the years to come. When asked about her approach to life and work, she told us that it is about taking action and that, "it all starts with kindness." Inspiring words from an inspiring artist.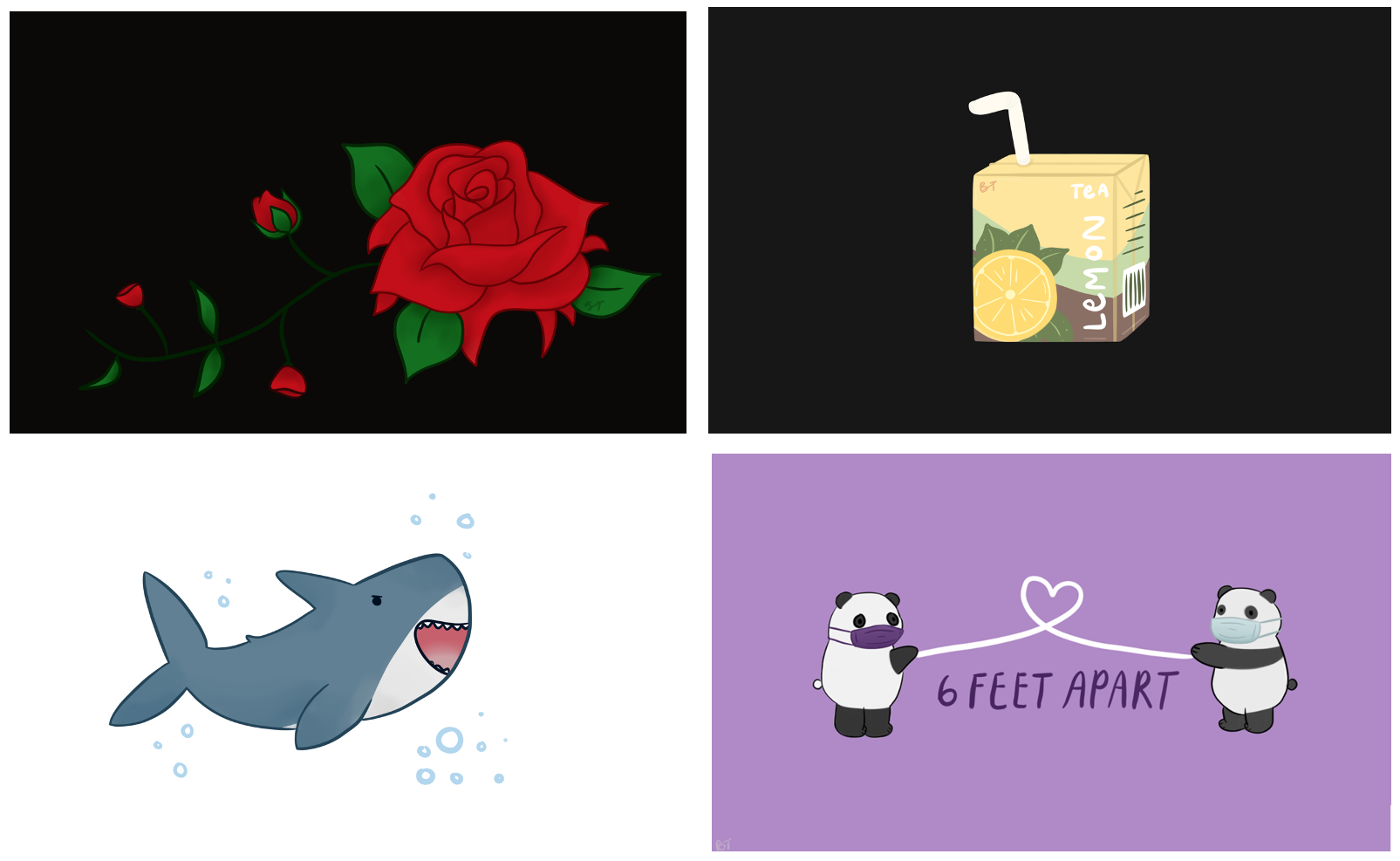 Four images created by Bonnie T.