Celebrate the Safe Way This St. Patrick's Day
March 16, 2021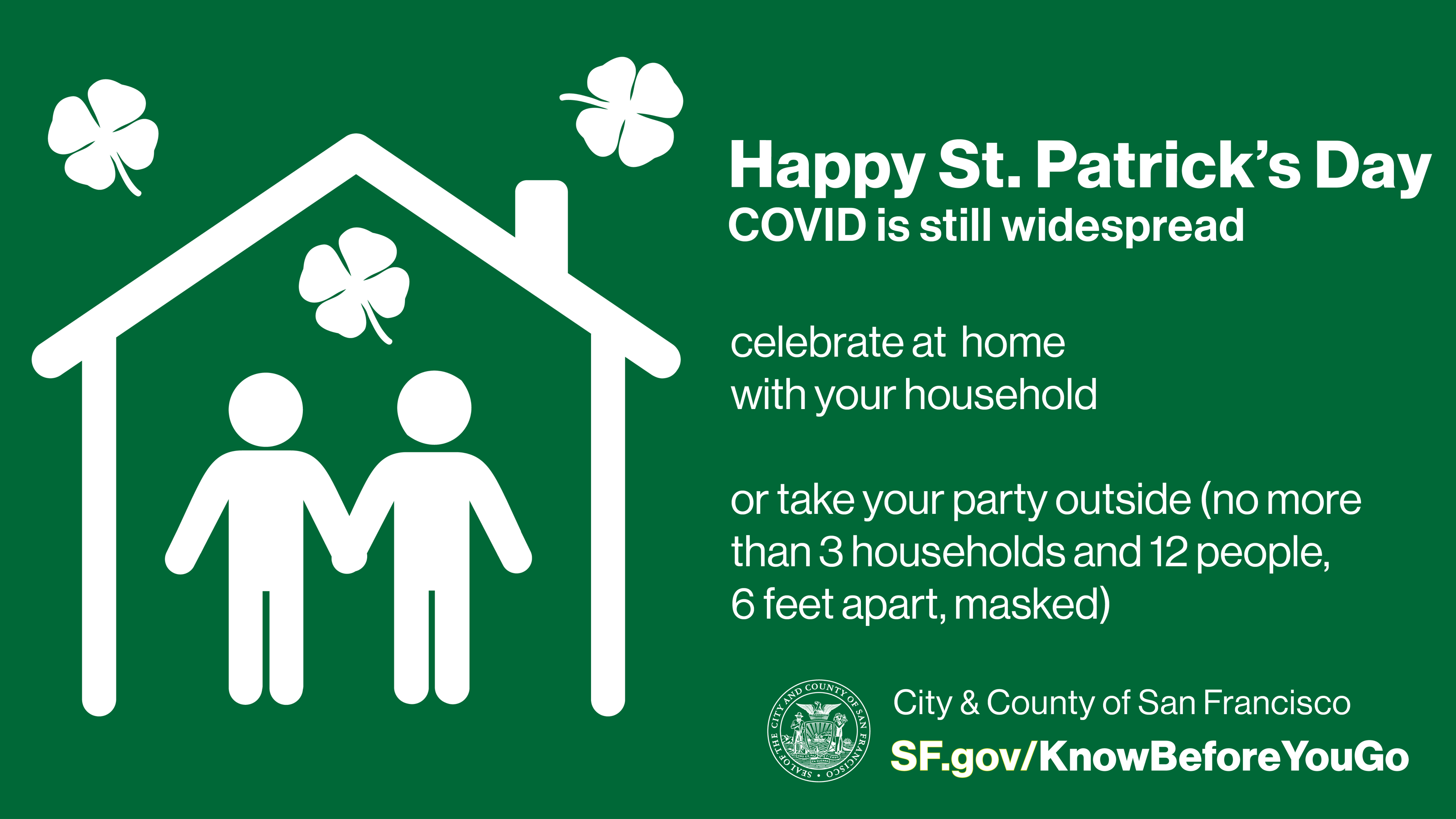 On St. Patrick's Day, don't forget your lucky charm: your mask. Although we are continuing to reopen and many of your favorite places to celebrate may feel festive this St. Patrick's Day, don't let your guard down. Enjoy yourself but do your best to protect yourself and others from COVID-19. 
Stay home if you can. The best choice still is to celebrate with your immediate household.
Stay local. Traveling increases the risk of spreading COVID-19.
Shop local. Get those green carnations, corned beef and cabbage, soda bread ingredients, or other St. Paddy's day items from the local stores that support you all year round and help you to avoid traveling.
Gather remotely. Get together via video streaming, social media, text, or phone call.
Remember, any time that you gather with those you don't live with, even if they are family members, you may be putting everyone at risk. If you cannot avoid gathering in-person, follow the safety guidelines:

Wear a face mask covering nose and mouth and snug at the sides. If you are eating or drinking, mask-up between sips and bites.
Keep at least 6 feet apart from those you don't live with.
Stay outdoors as much as possible.
Wash or sanitize your hands frequently.
Don't share food, utensils, or other objects.
If you are fully vaccinated (2 weeks since your final vaccine dose) you may gather without a mask or social distancing from others who also are fully vaccinated or are low-risk individuals (such as healthy children). If you do so, please wear your mask and other safety measures around those who aren't vaccinated or otherwise at risk. Remain vigilant.
It was on St. Patrick's Day a year ago that San Francisco's Stay at Home Order took effect. We have been through a lot together this year. Our collective efforts are keeping us on track to get back to the activities we all miss. We now have three safe and effective vaccines. Everyday more people are reaching full vaccination. We are so close; please remain vigilant a little longer. Celebrate safely during this time, so that next year, we can gather together without a care. Learn more at sf.gov/SaferSocializing, sf.gov/KnowBeforeYouGo