How to Receive Emergency Alerts During the Outdoor Siren Upgrade
December 9, 2019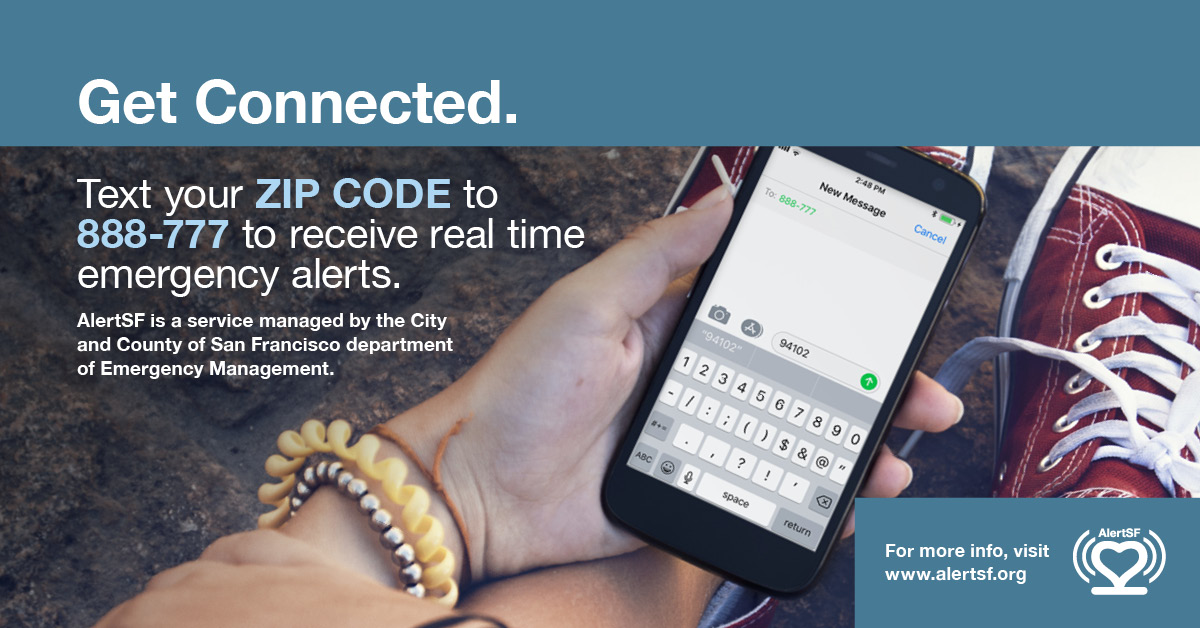 San Francisco's Outdoor Public Warning Siren has stood watch over our city for almost 80 years. For many it was comforting to know the sirens would sound the alarm in the event of a major emergency. Our beloved sirens were also a not-so-subtle reminder to eat lunch on Tuesdays. Many of you had questions about the temporary siren shutdown and upgrade. How would we receive alerts in an emergency? Why will the project take two years? Do you really have to shut them down? 

Here are our answers to many of your thoughtful questions:
Q: What will happen if there is an emergency? How will we receive warning?
San Francisco uses numerous alert and warning tools to deliver emergency notifications, alerts and warnings. During the Outdoor Public Warning System (OPWS) upgrade the city will still have access to AlertSF, the Emergency Alert System (EAS) and Wireless Emergency Alerts (WEA). We will also use traditional and social media to amplify emergency alerts. The city's alert and warning dissemination tools include deploying first responders, disaster service workers and community based organizations to impacted areas to help warn residents.

AlertSF – Text, E-Mail and Phone Call Alerts
AlertSF is San Francisco's emergency text message, e-mail and phone call system. AlertSF issues alerts and instructions following a natural disaster; major police, fire, health emergencies; or significant transportation disruptions to mobile subscribers. There are more than 137,000 AlertSF subscribers in San Francisco. 

How to receive text alerts:
The simplest way is to text your zip code to 888-777. You can sign up for more than one zip code (just send them as individual text messages). For example, if you live in Bayview and work in North Beach, then text 94124 to 888-777. Then in separate message text 94133 to 888-777. You can also visit alertsf.org to register for text alerts, e-mail and phone call alerts. By going online you can create a more comprehensive profile and customize the types of alerts you receive. 

How to receive a phone call alert:
AlertSF is also capable of sending voice alerts over the phone for significant  critical life and safety emergencies. AlertSF has access to Yellow and White Page data and can send a voice alert to more than 350,000 listed phone numbers in San Francisco.

If you are not listed or not sure if you are listed in the Yellow or White pages you can still register your home phone by visiting www.alertsf.org. 

Please keep in mind voice alerts over the phone are reserved for the most critical life and safety emergencies such as an incoming tsunami or contamination of the water system.  

Emergency Alert System (EAS) – Radio and Television
The Emergency Alert System (EAS) allows city officials to send warnings via broadcast, cable, satellite and wireline communications pathways. Most people recognize EAS as the weekly test they may see on television or hear on the radio.
Wireless Emergency Alerts (WEA)
Wireless Emergency Alerts (WEAs) are used to send concise text message warnings to WEA-capable mobile devices during emergency situations. WEAs are sent by your state and local public safety officials, the National Weather Service, the National Center for Missing and Exploited Children, and the President of the United States. Most people recognize WEA as the Amber Alerts they may receive on their phone.

Community Connection
Because we know that not everyone will (even with the sirens in operation) will receive the emergency message, it is important to note the power of community connection during emergencies.  Sharing alert and warnings with our family, neighbors and friends will ensure we can reach as many people as possible during emergencies. 

Q: Why will this take two years?
This project could take up to two years. The Department of Technology (DT) anticipates a shorter timeline, but it is often the case that the Department of Technology must reprioritize work as new tasks arise. A delay past the anticipated upgrade timeline would not be acceptable. So, we are estimating the worst-case scenario, with the understanding that we may not be operating in worst case circumstances.

Q: Why not do a staged roll-out?
A: San Francisco is performing this upgrade because a security vulnerability exists. Last year, the Department of Technology implemented a short-term fix. Performing this upgrade will allow us to make the long-term investment needed to harden the system. The last upgrade to the Outdoor Public Warning System was in 2005. We believe it's time for an update.

Q: If we can do without the system for two years, is it a good use of our money to upgrade it?
A: Effective alert and warning systems must include healthy redundancies with numerous means to send emergency information. The sirens are one of many resources used to alert the public. Other resources include text, e-mail and voicecall alerts, Wireless Emergency Alerts, the Emergency Alert System and the deployment of first responders and other emergency workers. 

Q: When will you share the details of the project upgrade timeline?
A: Those details are being collected as we determine what work needs to be performed on each of the sirens.. The scope of this project is vast as it is likely special equipment will be needed it will require an engineer deployed to each of the 119 sirens to perform the upgrades. After performing the work, we know that we must also test the system and fix any problems that may arise during the test period. Our estimated timeline takes into account all project milestones and associated tasks as well as room for the unknown. What we know now is that we will turn the sirens off on Tuesday, December 10. 
For more information, visit sfdem.org/sirenshutdown.