No better time to get ready for the next big earthquake!
October 15, 2019
Most of the San Francisco Bay Area can say they've felt some recent seismic activity throughout the region. With a M3.5 in Colma last week and a M4.5 in Pleasant Hill Sunday night, these tremors may seem eerily close to the 30th anniversary of the Loma Prieta earthquake this Thursday, October 17th. But we think these earthquakes are simply a good reminder to build upon your earthquake preparedness. The good news is you are more prepared than you think and getting prepared together is more fun than doing so alone. So, please take part in any one of the following special community events designed to commemorate the most damaging San Francisco Bay Area earthquake in living memory. Just think: getting prepared now, before the next earthquake, will make a huge difference in the aftermath.
The Great California ShakeOut (or ShakeOut) is the largest earthquake drill in the nation!  Each year, the ShakeOut encourages all participants to practice the safest thing to do during an earthquake: drop, cover and hold on. Everyone is invited to participate in the ShakeOut earthquake drill wherever you are at 10:17 a.m. by dropping down to your hands and knees, taking cover under something sturdy, and holding on until the "shaking" stops. 
Find yourself at City Hall between 6 to 11:00 am? Practice your ShakeOut in the earthquake simulator, staged in front of City Hall!  


City and County of San Francisco Loma Prieta 30th Anniversary Community Preparedness Fair at the Marina Green
All San Franciscans are invited to come together to remember the most damaging earthquake to strike our City in the last century.  Please join Supervisor Catherine Stefani to commemorate the 30th anniversary of the Loma Prieta earthquake with a community preparedness fair at the west end of the Marina Green from 3:00-6:00 p.m.
Set in the Marina District, the birthplace of San Francisco's Neighborhood Emergency Response Teams (NERT) this family-friendly gathering will feature a resource fair with emergency preparedness training, a display of first responder apparatus, and an earthquake simulator.  In addition, NERT volunteers will reenact how they helped save the Marina District by running SFFD hose tenders throughout the neighborhood to help fight fires. 
In addition to the community preparedness fair, Mayor London N. Breed will host a commemoration ceremony honoring the 30th anniversary of the Loma Prieta earthquake from 4:30-5:30 p.m. To learn more about the event and to RSVP visit: LP30.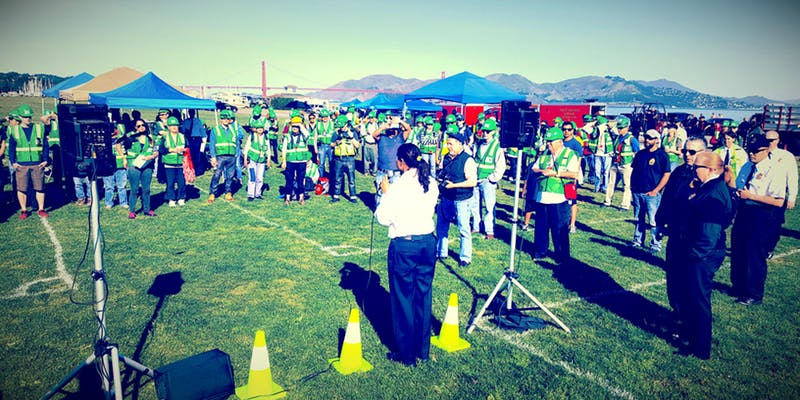 San Francisco Wireless Emergency Alert System Test (Approximately 5:30 pm)
On Thursday evening, between 5:15 and 5:45 pm, the City will be testing the Wireless Emergency Alert (WEA) System. The emergency alert will be sent to all WEA-capable mobile devices within the geographic boundary of San Francisco, even if they are visiting from elsewhere (if you have ever received an Amber Alert on your phone, the WEA alert is similar). In an actual emergency, the City could broadcast a Wireless Emergency Alert to help save lives and reduce property loss.  This test will allow San Francisco to practice the system while encouraging earthquake preparedness and AlertSF (the city's email and text message emergency alert system). For more information on WEA: www.fcc.gov/consumers/guides/wireless-emergency-alerts-wea.