Something New in Mobile Alerts: CMAS
We are happy to announce that the City of San Francisco now has the ability to alert San Francisco residents by using the Commercial Mobile Alert System.
What is CMAS?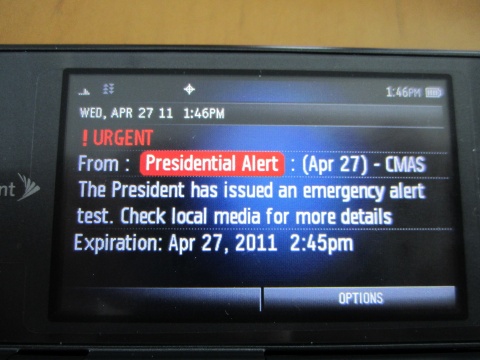 CMAS is a the system interface to the Wireless Emergency Alerts (WEA) service that wireless carriers are rolling out across the United States this year. CMAS is a partnership between FEMA, the Federal Communications Commission (FCC), and U.S. wireless carriers. It is designed to enhance public safety by providing mobile alerts in three basic areas, including: Presidential Alerts; Amber Alerts and Imminent Safety Threats, such as shelter-in-place, evacuation, Tsunamis and severe weather alerts.
Will I automatically receive CMAS alerts?
Yes, you will and so will anyone living, working or visiting San Francisco when an alert is issued. CMAS is a geographically based system and is now available on ALL major wireless carriers. Not all mobile phone models have the ability to receive notifications. Newer mobile models have the capabilities built directly into the phone.
How will I know when I receive an alert?

These automatic alerts have their own ringtone and vibration to let you know when an alert has arrived. It is unique from the alert you've set up for text messages. Alerts will automatically "pop up" on your screen and will be limited to 90 characters.
Due to the limited character amount, when you receive an alert the best thing to do is tune in to another media source like a radio or TV for more information.
Keep an eye out for potential alerts and make sure to tell your friends and neighbors about this new way to receive emergency messages on your mobile device.