Taking it to the Streets: the SF Heroes LIVE Game!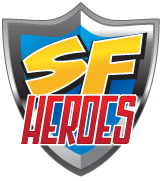 So, we have this great app. It's called SF Heroes and it's on iPhone and Android smart phone platforms. If you haven't already, we hope you'll download it and join the fun. SF Heroes is one of DEM's online, social mechanism for learning about how to be prepared for an emergency; but what about an in-person way to do the same? Well, we are happy to share that we have indeed thought of that, and are making available to San Francisco this October SF Heroes LIVE! The SF Heroes preparedness iPhone and Android app brought to…life!
What is SF Heroes LIVE? The SF Heroes LIVE game is a live action and in-person version of SF Heroes, the smart phone preparedness social gaming app. Get a group of friends together as a team or play individually to complete in fun and creative challenges and tasks that will help you to get prepared for just about any kind of emergency.
How does SF Heroes LIVE Work? Starting October 11, begin a week-long quest to earn points as you complete tasks and compete for prizes designed to enhance your superhero emergency preparedness knowledge and skills. You'll also share your successes with your friends on your favorite social media channels. And then one week later, join us at Jillian's at the Metreon on the evening of October 18 for an exciting celebration of your preparedness prowess with others from the game.
How to Play SF Heroes LIVE? The first steps to participate in SF Heroes LIVE are to download the SF Heroes app to your phone and choose your superhero identity; don't forget to invite your friends on Facebook to join the superhero ranks (you'll be able to do this directly from the app). The next step is to preregister yourself and/or your team for the live game at sfheroes.com (preregistration is open now!) where you will also find a list of the local businesses providing prizes, which include Fiat Lux, Fresh and Easy, Jillians, Trader Joes, Ritual Coffee Brewers, Cole Hardware, and our sponsoring partner Target.
Be part of the SF Heroes experience and help our city to be ready for…anything!