Talking to kids about the coronavirus (COVID-19)
March 12, 2020
Just like most adults, children are hearing news about coronavirus (COVID-19) through social media, television and their schools. It can be especially daunting for them to hear information without the right context or explanation. While San Francisco responds to the coronavirus in our city, talk to your children about the virus to help them better understand what's going on. It can help manage their fears about getting sick and help them, and you, stay aware.
Here are some tips and language you can use to talk to your children about the virus:
• Listen to their concerns. Reassure them and make sure they feel safe.
• Explain the basics. Give them the right information but don't overwhelm them.
• Coronavirus is a new virus that causes a disease called COVID-19.
• Many people around the world are sick because of it.
• Few children have gotten sick from it.
• People most at risk for illness are older adults and those with preexisting health conditions or compromised immune systems.
• Not everyone who is sick has coronavirus.
• It does not matter where people are from or what ethnicity they are- the virus can affect anyone.
Give them useful tools. Practicing healthy habits is the best way to prevent the spread of viruses. Encourage children to regularly wash their hands, sneeze and cough into elbows, keeping their spaces clean and avoid touching their face. Even better, do it with them to maintain those habits all the time.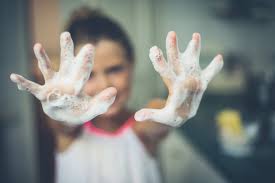 For another resource to use to talk to your kids visit: https://www.npr.org/sections/goatsandsoda/2020/02/28/809580453/just-for…. 
Created 3/2/2020. Last updated 3/12/2020.