We Will Recover Spotlight: Green Apple Books
December 16, 2020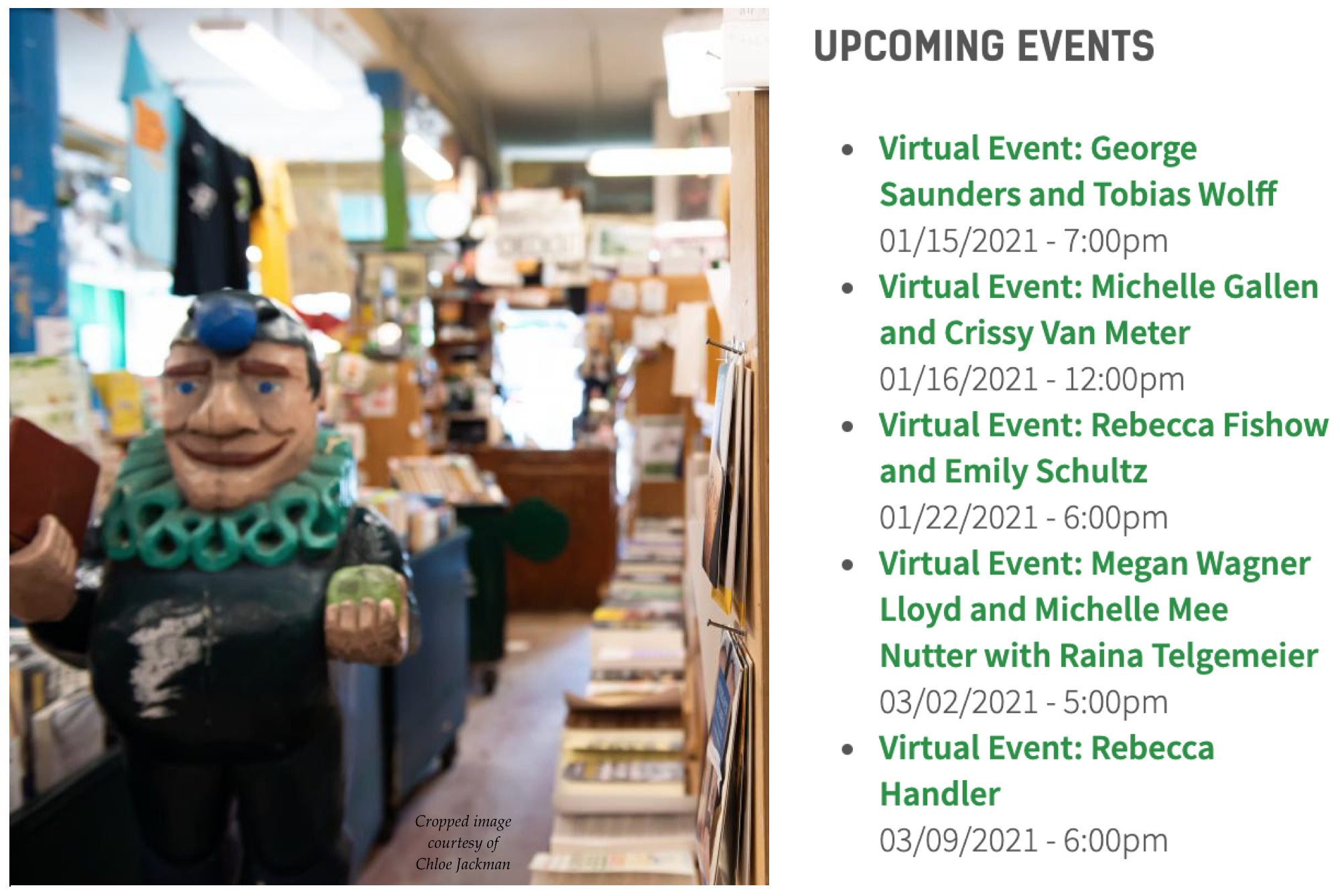 Green Apple Books is a beloved San Francisco institution. A place to wander, peruse, discover, uncover, and after a period of time longer than you likely realize, leave contentedly clutching a trove of delights for yourself and as perfect presents for others. Throughout its 53 years in business, it has been a neighborhood mainstay offering comforting consistency while evolving to serve the needs of the community. This year it had to evolve more dramatically due to the ongoing COVID-19 pandemic.
We recently spoke with Green Apple Co-Owner Pete Mulvihill about how they have adopted safety protocols and continue providing service during the COVID-19 pandemic.
What kind of safety measures have you taken to protect customers?
From the beginning of the pandemic, we followed the City's guidelines and then some. We put up signs everywhere. Signs and posters from the City and our own. We placed directional arrows on the floors to help with customer flow and reduce contact. We took out all the chairs so people wouldn't sit and read. We moved workstations and point of sale stations to reduce crowding. One of our staff had the idea to use some of our bookshelves to extend one of our counters to maintain safe social distance during transactions. We put up plexiglass barriers in certain spots. We opened the windows and doors. We placed a small table at the entrance with informational signs, hand sanitizer, and even disposable gloves. We keep the occupancy low in the store and monitor capacity. When it is busy, we place someone at the front to handle customer flow, one in one out. When people gather too tight in the store, staff will gently remind them in person or over the intercom. People have been great. Everyone seems happy to be here. A dozen people a day come up to us and say how grateful they are that we are open."
What about staff safety?
We do daily health checks for our staff. We send out email reminders about safety guidelines and to solicit suggestions on ways to improve. We cleared out a storeroom to create an additional staff breakroom and we stagger breaks to reduce possible exposure. We are a union shop offering medical insurance, sick and vacation pay, and other benefits. It was hard at the beginning of the pandemic when we had to close and lay off everyone. We've been able to rehire everyone who was available and even give them a retroactive bonus.
What advice do you have for other stores trying to keep their business healthy and everyone safe during the pandemic?
Do what the city tells you. Pay attention to the case count. Remind people that how they spend their money determines the shape of the future of San Francisco. I think that during the pandemic people began to really understand the Shop Local movement. When they saw their local stores boarded up, they felt the loss and saw a vision of San Francisco they wanted to avoid.
To make it through this crisis we've all got to adapt. The pandemic forced us to innovate and modernize. We made our website better. We had it for 11 years, but we hadn't given it much attention. Now we use it to reach and serve our customers. We curate selections, offer reading lists, and made sure that it works well on mobile devices. A lot of people will order books online but still come by the shop to pick them up. We've always done author events, but now we do them online. We've been able to promote local authors and help them connect to readers. Some local authors have come in to sign a stack of books that we can provide to customers later, something that the corporate stores can't offer. Online customers can order fiction subscriptions for themselves or as gifts. We also offer online gift cards. We've done more business through the website in the last four months than the entire time we've had it. It's somewhat labor intensive, so we have been able to hire more staff. It's like having another store. Our plan is to keep adapting our business and serve our community. We hope that everyone does the right thing so that we can all make it through the pandemic safely.

We thank Pete Mulvihill, co-owner Kevin Ryan, and the entire staff of Green Apple Books for their dedication to our community. When you visit Green Apple Books, give a nod for good luck to Mergatroid, the one-of-a-kind mysterious but welcoming gnome-like carved wooden statue at the entrance. Then sanitize your hands and head in to select from an astounding selection of new and used books, CDs, DVDs, and other materials to feed your mind and sustain your soul. To find out more about Green Apple Books and their other stores, visit greenapplebooks.com.
Please remember, that during the current lockdown, you can still go out for rewarding walks and visit our vital retail businesses. Nourish your soul and talk a stroll down Clement Street, the vibrant neighborhood hub where Green Apple Books is located. Visit unique shops filled with practical and fanciful items. Order take-out from restaurants cooking up creative cuisine from diverse cultures. When you order take-out directly from a restaurant, you will save delivery costs and the restaurant won't be charged multiple fees from online delivery services. Stay local, shop local, and give local. Support the City you love. Together, we will recover from COVID-19. sf.gov/WeWillRecover, shopdine49.com.