We Will Recover Spotlight: Psoas Massage + Bodywork
February 8, 2021

Founded in 2003, Psoas Massage + Bodywork started with a passion for helping athletes and people in pain. Today, the bodywork clinic is made up of talented, well-educated massage therapists and manual therapists, including a Rolfer/chiropractor, who work together as a team to create a unique treatment for each client. Using different modalities and skills, the Psoas team learns more about clients' injuries, athletic aspirations and other goals to create a treatment plan, working as partners with clients. Some clients initially arrive addressing pain, then eventually shift to a maintenance and prevention program. At that point, clients visit less often for maintenance for help staying in front of pain and other problematic issues. 
Our Joint Information Center team recently spoke with sole owner and trained therapist, Jenny Lightstone, to find out how her business is adapting to the pandemic and to draw lessons for other businesses.

How have you adapted your business during the COVID-19 pandemic?
When I took over the business as sole owner the year before, I brought on our first ever chiropractor. This ended up being a saving grace. Chiropractors are considered essential workers, unlike massage therapists, so she continued working, along with an administrator, one day per week. She was able to continue seeing some of our clients who were in pain and dealing with injuries; it would have been detrimental for them to stop treatment.
The pandemic has brought our health team together. We stayed in regular communication during our 6-month closure and came back strong when reopening in mid-September 2020. Then with the next stay-at-home order in December, 2020, we had to change our business model again for clients who had a medical referral from a health provider.
It's been quite the whirlwind and we've grown a lot closer going through this. The silver lining has been the opportunity to update our business model. Two questions emerged for us: what is our shared vision, and how does that look in our current space? Staff is working on it together, essentially revising our vision and mission. The reality is that San Francisco has changed. And we at Psoas, tend to lean toward the clinical sides of things, namely as anatomy wizards, and sometimes we might not be looking as much at the relaxing part of massage. People in San Francisco are fried now. There's been a shift from clients wanting only hamstring or deep tissue work to also wanting to chill and needing gentle touch. So, sometimes we take off our clinical hat and soften our approach. It's been a neat discussion to have as a team and certainly has been integral to the community. The work now is not just muscular, but also energetic. We are responsive to clients in the now and how they show up, in their variety of needs.
 
What steps have you taken to make your business safe for clients and staff?
We managed to get PPP (Paycheck Protection Program) funding early on. Then we put together the Psoas COVID Health and Safety Program and invested time thoroughly training the whole team. This was a daunting undertaking, spending over 40 hours doing research, but ultimately our administrator created a personalized manual for staff. We did intensive research on masks – it was important that the masks were comfortable – which we had designed in the colors of our business. Also, finding a type of disinfectant that wouldn't break down the fabric on massage tables. I even experimented with making my own hand sanitizer. 
In all of this, it was important to me to support local businesses. We upgraded our HVAC system with the help of a local company. We installed inline fans which push more outside air into the space while GPS ionizers kill pathogens, including viruses and bacteria in the air. Each room also has a HEPA air purifier. 
The safety of our clients is extremely important, so our safety protocol begins before you enter Psoas. There is a sign at the entrance asking clients to wait behind a chain at the front door. A client's temperature is taken outside, we make sure they have a mask, answer the COVID questions; all of this before even entering the space. 

What can clients do to stay safe and keep your staff safe?
We ask clients to fill out our now-digital intake form along with a one-time COVID waiver. We also ask clients to be honest with themselves and if they have ANY symptoms, to please not come in. 
Everyone, staff and clients, need to wear masks. At first, the idea of getting a massage with a mask was strange. Staff were skeptical too, but now masking is second nature. And clients feel the same way.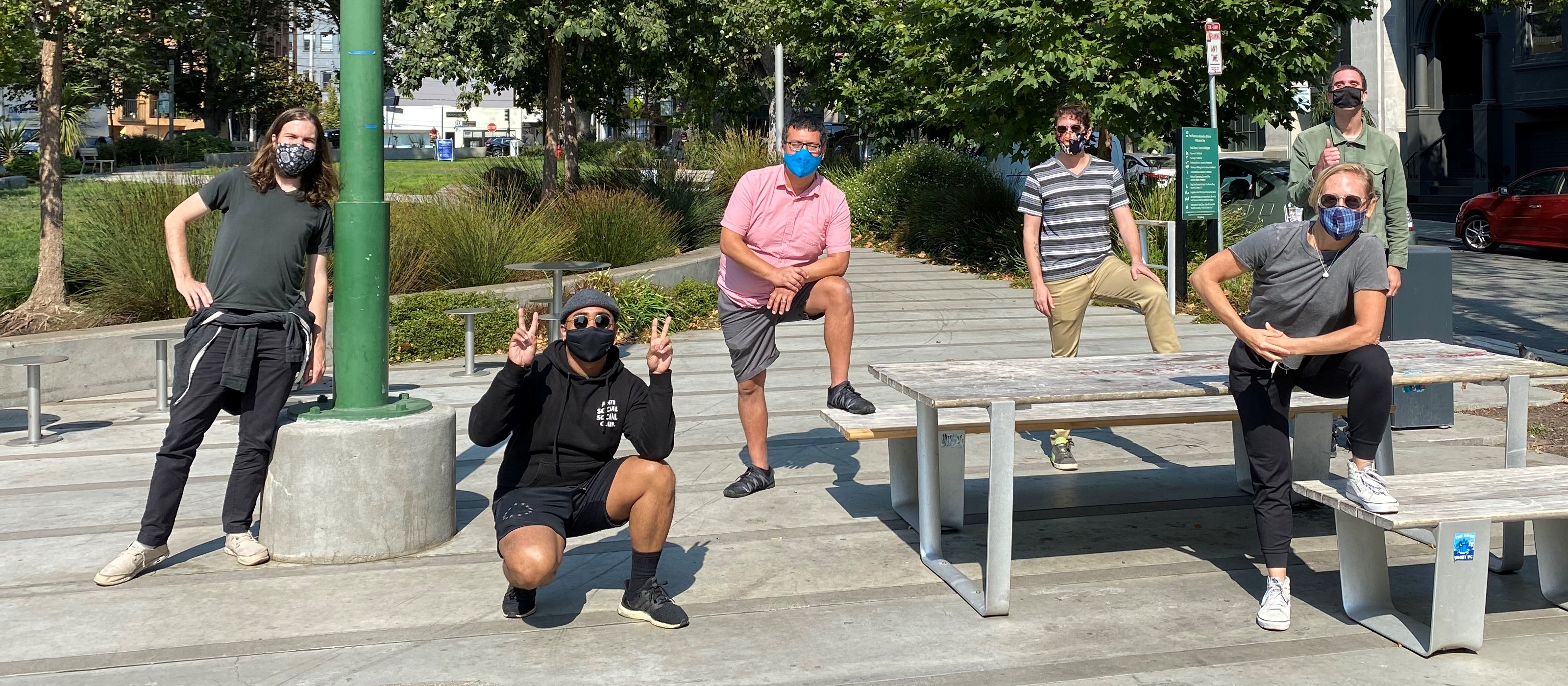 Have you been able to retain your staff throughout the pandemic?
Currently, 14 of 23 employees are working. Some staff were furloughed or on unemployment. We helped them get set up with that immediately when things started closing down in mid-March of 2020. Sadly, several team members moved out of the Bay Area during this time.  
 
Have you created new services during this time to support clients and your business?
Not new exactly, but well-suited to these times, we offer virtual sessions. These sessions start with an assessment by a therapist, then involve teaching people how to do self-massage with tools at home: foam roller, tennis ball, rolling pin, and some Pilates. The virtual pivot is great, but real-time touch and manual therapy is an important part of peoples' health. 
We've learned that for clients who have rarely gone out, this may be one of their first outings; getting a massage. It's a reminder to walk clients through our new process and welcome them in. 
 
What advice do you have for other businesses trying to keep their business healthy and everyone safe?
We rely heavily on updates and newsletters we get from the City. Particularly the resources they've provided along the way, informing businesses of requirements, and offerings for grants and loans. Also create relationships with your governing office – we've got solid communication with the SF Health Department to make sure we are on the right track.
We have team meetings virtually. What is so clear is that everyone's on board;  the only way to keep working is to keep safe. We all understand the importance of it and no one's cutting corners. You can have a safety plan, but if people aren't doing it, it won't be effective. It's key to stay in touch with clients, let them know what's going on. 
 
Have you or your staff received any support from the City, State, or other government agency? (grants, loans, advice/consultation, PPE, etc.)
We received the first round of Paycheck Protection Program (PPP), which allowed me to pay rent and pay staff. That was HUGE. Another grant with the City, SF Shines for Reopening Grant, helped by partially reimbursing for the investments we made to upgrade our HVAC system for COVID-19. 
Any interactions with clients (or others) during the pandemic that are particularly meaningful to you or other members of the team?
Yes, we hear from clients that are thankful we're open. We see a lot of clients that are waking up with debilitating pain. They are barely able to walk in here and then we see them walking out without pain. A lot of people don't realize we're open and are unnecessarily sitting with discomfort. Many are a bit nervous to come in that first time, and then once they realize how we've oriented the space around safety, they feel well supported to continue getting sessions during this time. Of course, we welcome feedback and want everyone to feel safe.
 
What do you miss most and look forward to doing/offering when we are out of the pandemic?
Since a couple of our staff therapists are nervous about working right now, I'll be excited to have them come back. Also, we're looking forward to bringing on new therapists, and returning to a full staff. Most exciting though, is welcoming clients who haven't had a massage in a year! 
 
Anything you would like to share or express that we haven't touched upon?
I'm sad about the businesses we've lost during this time. Some were friends and neighborhood restaurants we've had long relationships with. For example, we had a 5-year trading relationship with a restaurant down the street: feeding our staff in exchange for massages. Even though San Francisco has been kind of a ghost town lately, I'm excited for the next chapter, allowing for diversity and more opportunity outside of just the tech industry. I enjoy being part of that community. 

We thank Jenny Lightstone and the staff at Psoas Massage + Bodywork for their dedication to keeping our community safe and comfortable in their bodies.
You can once again get that massage or bodywork you've been postponing. Check out their menu of services online, give a phone call to schedule an appointment, and swing by at the arranged time for a safe and healing visit.
Website: https://www.psoasbodywork.com/
Phone: 415-227-0331
Address: 333 3rd St., Suite 205 in San Francisco, 94107
Although the safest thing for you to do during the COVID-19 pandemic is to stay home as much as possible, it is fine to go out and visit our vital retail businesses as long as you follow safety protocols. Wear a face covering, maintain safe social distance, keep interactions short, wash your hands frequently or use hand sanitizer, and don't share food or other items. As of Thursday, January 28, many San Francisco businesses and services are reopening (with appropriate health and safety protocols). Go ahead and finally get that massage, chiropractic adjustment, haircut, manicure, or Bernie-in-mittens tattoo that you've been craving. Our unique local businesses have been waiting to share their services with you. Give them a visit. Stay local, shop local, and give local. Support the City you love. Together, we will recover from COVID-19. sf.gov/WeWillRecover shopdine49.com