When the ground starts to shake, what do you do? Join the Great ShakeOut to practice earthquake safety with your community
October 20, 2021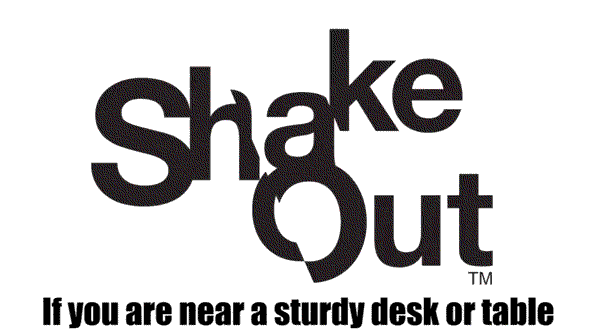 Although our efforts are focused on the COVID-19 pandemic, it is possible that other emergencies like wildfires, power outages and even an earthquake can happen at the same time.
Join us for The Great California ShakeOut this Thursday, October 21, 2021, to make sure that you know how to keep yourself and others safe. Don't put off preparation until an earthquake or other disaster occurs–then it might be too late. The good news about earthquakes is there's a lot of simple things you can do before the earth moves that make a huge difference afterward (check www.sf72.org to learn more—we bet you will find you are more prepared than you think!).
When an earthquake occurs, it is human nature to act on instinct. Make sure that your instinct is the result of smart preparation. Join us at 10:21 a.m. this Thursday to practice the safest thing to do during an earthquake: drop, cover, and hold on. That means at 10:21 a.m. wherever you are, drop down to your hands and knees and cover your head with your arm, or if you are by a table or desk take cover under it and hold on until the virtual shaking stops. This practice drill will help you to remember the drop, cover, and hold-on move during the real deal—think of it as creating muscle memory.
As of Oct.14, 2021, San Francisco has over 62K registered for the 2021 Great California ShakeOut! To participate this year, go to www.ShakeOut.org/register and pledge your family, school, business, or organization's participation in the drill. Registered participants will receive information on how to plan their drill, connect with other participants, and encourage a dialogue with others about earthquake preparedness.
In addition to participating in the drop, cover and hold on drill, take the following steps and get prepped today:
Make sure that you have supplies like toilet paper (sure don't want to go through that shortage again), non-perishable food, water, prescription medications, flashlights, a portable radio, batteries, and other essentials.

Create or update an emergency plan with family, friends, and neighbors to identify meeting locations and contacts.

Sign up for AlertSF to be informed about emergency situations (text your zip code to 888-777)

Get the MyShake app for your Apple or Android phone. It will send a warning if a magnitude 4.5 or greater earthquake is detected. It will also send a simulation alert each year during the Great California ShakeOut.
We are dealing with so many emergency situations even during a pandemic, that it makes you wonder what's next? Who knows? But we do know that you'll be in the best position if you prepare for the worst. To learn more about the Great California ShakeOut go to: www.ShakeOut.org