Who Shook Out?
October 26, 2012 in

Last week 9.4 million people in California participated in the largest earthquake drill in the state...in the country…in the world! Now in its fourth year, ShakeOut aims to arm Californians with the knowledge of what to do during an earthquake, which is to drop, cover and hold-on. The act of practicing with our school mates, work colleagues, neighbors, friends, and family does two important things:
It helps us to engage in a collective activity within our social networks that gets us talking about earthquake safety and preparedness with each other, which helps to make earthquake preparedness a cultural norm.
By practicing dropping, covering and holding on, we develop muscle memory so we instinctively know what to do next time the earth moves.
In the City and County of San Francisco, nearly 327,000 people participated in ShakeOut and/or participated in a broad range of drills and other preparedness activities. In this em4SF Blog, we are highlighting two of many drills that took place (and could still be taking place as the window to ShakeOut is two weeks). That said, did you ShakeOut? If so, let us know and we'll spread the word on what you did via @em4SF! And if you didn't , it's not too late to register and practice the life saving move: drop, cover, and hold on.
And now for our ShakeOut highlights:
Dr. Charles Drew Elementary School ShakeOut Drill
Every year, the San Francisco Unified School District (SFUSD) participates in ShakeOut and DEM works with SFUSD to select a school for the Mayor to 'ShakeOut' with the students. This year, Dr. Charles Drew Elementary School in the Bayview was selected, and not only did they do an amazing job practicing dropping, covering, and holding on, every one of the nearly 400 students did one of the smoothest evacuations we may have ever seen.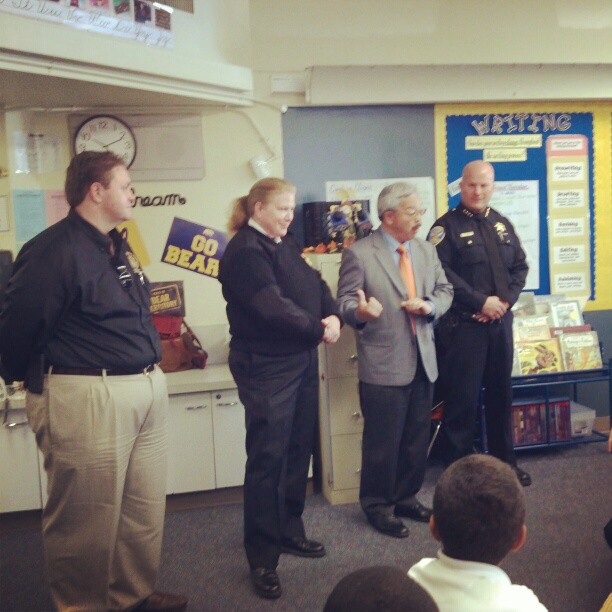 Joined by Mayor Ed Lee, San Francisco Fire Chief Joanne Hayes-White, and San Francisco Police Chief Greg Suhr, DEM Deputy Director Rob Dudgeon 'shookout' with Dr. Drew Elementary School and practiced the drop, cover, and hold-on move with the third graders of the Berkeley Class (Dr. Drew Elementary School is a College Preparatory Academy offering a challenging learning environment for students in PreK through 3rd grade with classes named after esteemed Californian academic institutions).
"I think your class is really special" said Mayor Lee as he asked the kids why he was so fond of the Berkeley name sake; "because you went there!" said one of the astute students. While the Mayor, Chiefs, and DEM Deputy Director got the kids ready for the drill, the kids were invited to ask our city officials any questions, most humorous being a question to the Mayor asking how old he is. Another child asked how the city officials worked together (very smart kids…definitely Berkeley candidates!) and the Mayor explained how DEM runs the city's Emergency Operations Center and that DEM Deputy Director, Rob Dudgeon manages emergencies there, along other city departments and agencies. Then, at 10:18 am, the drill commenced and the children, the Mayor, the Chiefs, and the DEM Deputy Director practiced the move: drop, cover, and hold on. They all did an excellent job! Then, the kids showed off their evacuation savvy and exited the building in perfect concert and silence.
DEM wants to extend a heartfelt thanks and appreciation to Drew Elementary Principal Tamitrice Rice-Mitchell for taking earthquake preparedness so seriously and allotting special time for the students to practice (they pre-practiced for ShakeOut numerous times). The kids definitely know the move to drop, cover, and hold on and now they are helping their families and friends know what to do the next time the earth moves.
California Academy of Science ShakeOut Drill
It may have looked like any other day in the California Academy of Sciences Earthquake: Life on a Dynamic Planet exhibit, but the timing of this new exhibit being open (it was opened last May and will be displayed for the next two years) for it's first official ShakeOut drill was too much of a thematic alignment of earthquake science and earthquake safety to pass up. That said, the California Academy's guests shook out in support of ShakeOut with the rest of California last week.
A special group of guests participated in the drill--the students from Mithril Cox's third grade class at Arrgonne Elementary School, who came to the Academy to learn all about earthquakes.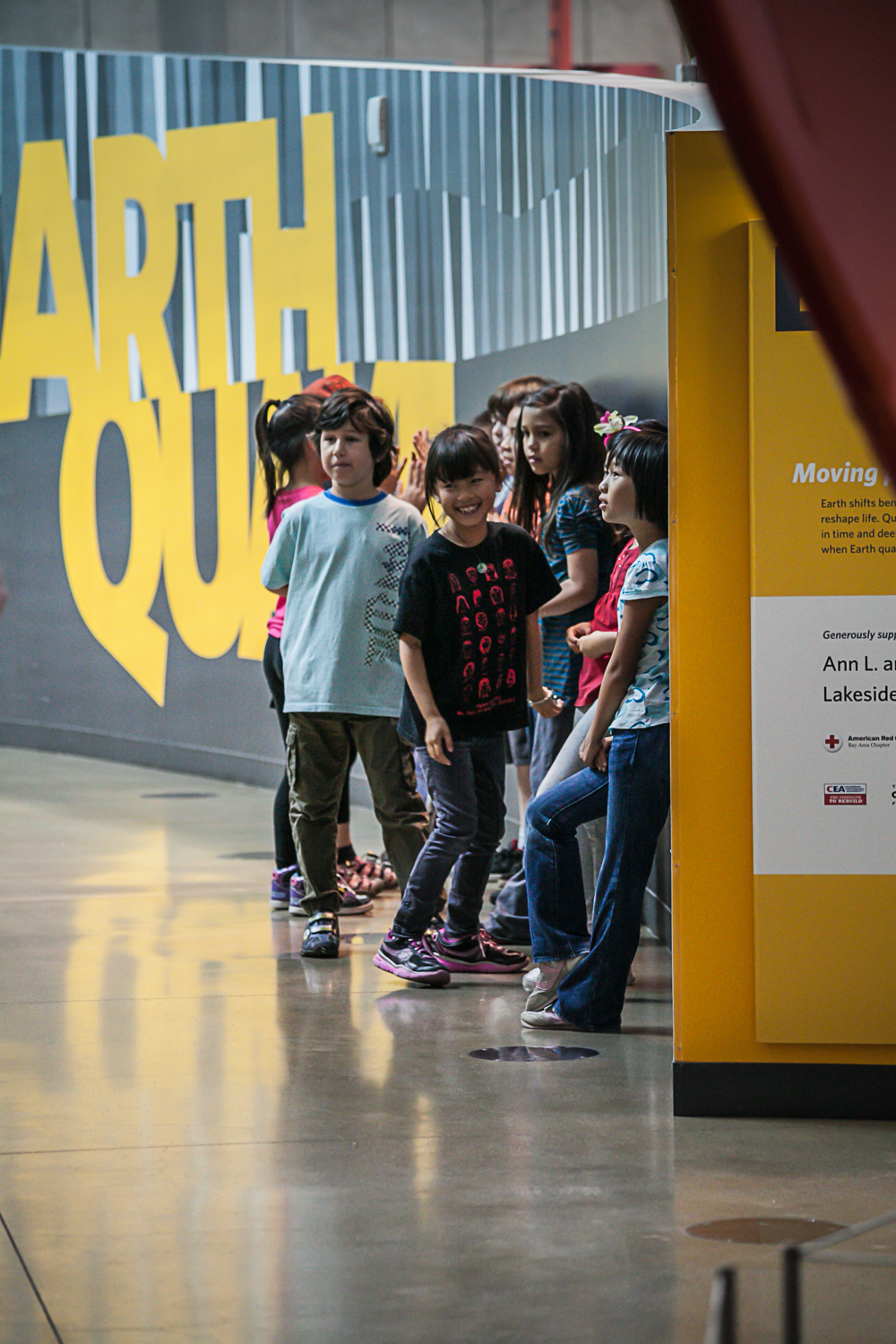 To prime the guests to get ready for the drill, the California Academy of Sciences made an announcement to the museum guests five minutes before the drill took place. Then, at 10:18 the announcement over the loud speakers told everyone to ShakeOut, and most guests dropped, covered, and held on...and some looked puzzled about what was happening, but soon followed in suit (one of the cool things about ShakeOut is how memorable seeing someone around you demonstrating the drop, cover, and hold on move is).